When COVID-19 Makes NCAA Tournament Parties Impossible, You Zag.
To finish a historic season for Gonzaga University men's basketball, the GU Alumni Association and fans across the United States should have been able to celebrate a run through the NCAA tournament with live viewing parties and gatherings.
The global pandemic made that impossible. So we assembled a team of several partners (including Houdini Interactive, Talk Fast Social, Sixth Man Marketing and other collaborators) to help the GU Alumni Association create a fully immersive online experience known as Zag Madness.
Zag Madness brought together Gonzaga friends, family and alumni across the world for three days of celebration. Click the button below to launch the experience for yourself.
Results: Check
Ah, you expected us to talk about results at the end, didn't you? Well, the results were so phenomenal we wanted to share at the beginning. What makes these metrics even more impressive: social stats were generated in just five days, while the site usage statistics were generated in three days. Oh, and development of the entire experience, from concept through final launch? Yeah, we did that in four weeks.
8.16
Pages/Session (4X National Average)
audience:
1,905 cities in 60 countries
Greater Spokane, Greater Seattle, Greater Portland, Los Angeles, San Antonio, San Francisco, Phoenix, Denver, Honolulu, Vancouver
San Diego, Las Vegas, Boise, San Jose, Salt Lake City, Dallas, Chicago, New York, Sacramento, Anchorage
Tri-Cities WA, Mountain View, Houston, Missoula, Indianapolis, Fresno, Scottsdale, Billings, Lewiston, Atlanta
Recognizable Destinations: Check
Sure, we could have created typical online viewing parties. But neither we, nor Gonzaga University Alumni Association, wanted to be typical. Instead, we created an online event with several opportunities for interaction, discovery, and celebration.
The entire experience was presented across three well-known Gonzaga landmarks/venues familiar to alumni, students, and fans:
The John J. Hemmingson Center
The McCarthey Athletic Center
Jack & Dan's Bar & Grill
Strategically, we chose those destinations because they have strong emotional connections for alumni and fans, representing comforting and familiar sights in a world still struggling with connection and community.
We captured 360-degree imagery of all landmarks/venues and incorporated it into the experience with the use of photosphere technology to give users the "feel" of being inside the well-known and well-loved environments. Additionally, users were able to interact with those environment via hotspots leading to different activities and experiences…so it was a mix of familiarity (the ability to be in locations most users had not experienced during the pandemic) and discovery (the ability to find and interact with unique and fun activities in those environments).
Future Scalability: Check
Obviously, a celebration of the men's basketball season was the ideal debut for this powerful platform and its integrated tools. But we are also working with Gonzaga University to build on its initial investment for future events, including:
Events: Either entirely virtual, or as a "hybrid" experience with live sporting events, community events, recruitment events and similar.
Alumni Outreach & Engagement: Again, this platform can be a virtual/digital component of future alumni events.
Student Recruitment: Part of the Zag Madness experience included links for potential students to explore enrollment at Gonzaga University. (Online marketing also targeted these high-value prospects in select geographic markets.) In a similar way, this experience can be reconfigured as a fulfillment center for new student inquiries.
Unique Experiences: Check
Within each of our three destinations, we created opportunities for discovery and interaction, including:
:: "Buzzer Beater" Basketball Game ::
Our team developed a game allowing participants to shoot hoops on the court at McCarthey Athletic Center. The game was controlled with gestures and interactions on desktop and mobile devices, while a leaderboard gave participants bragging rights for high scores.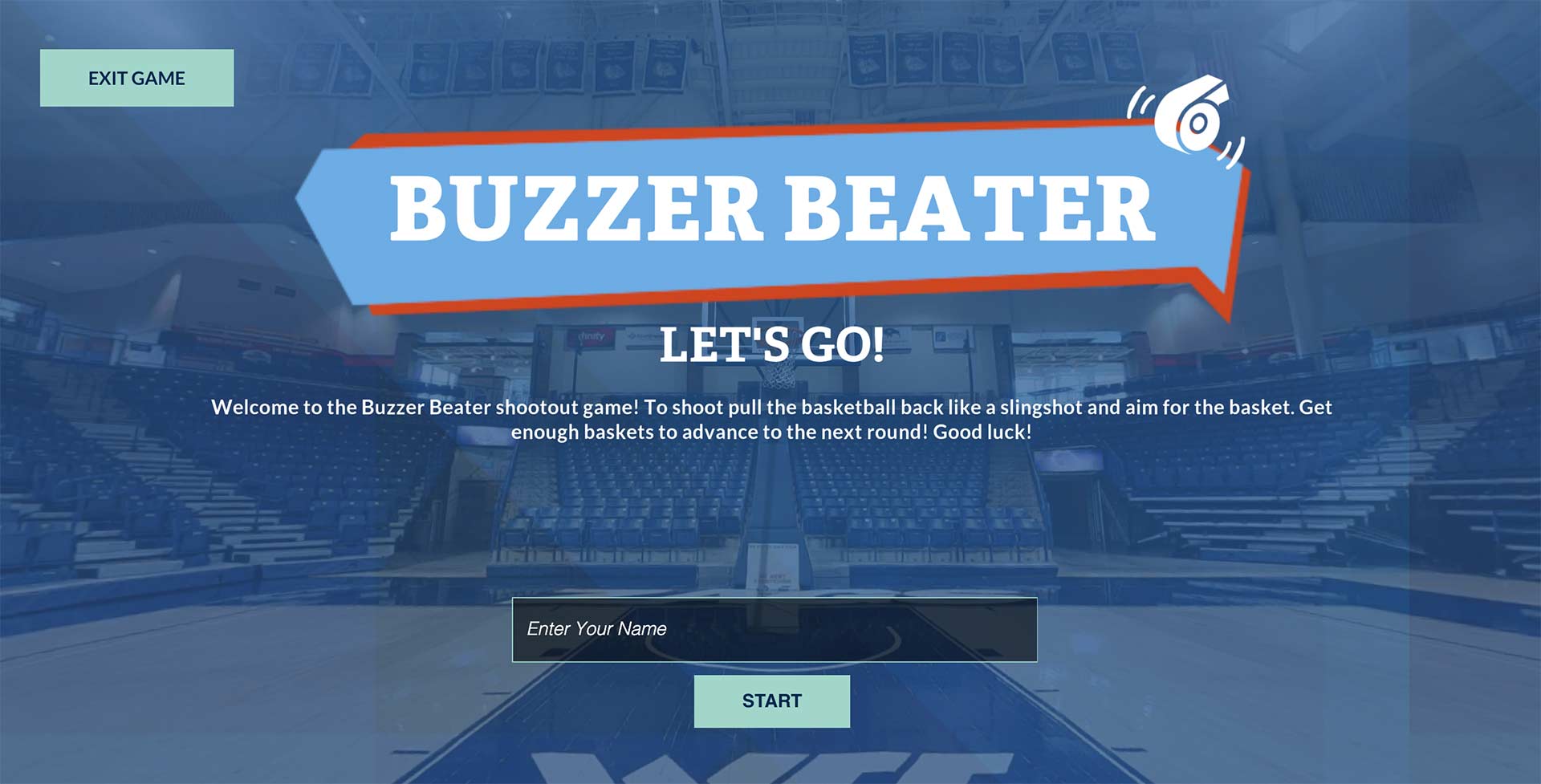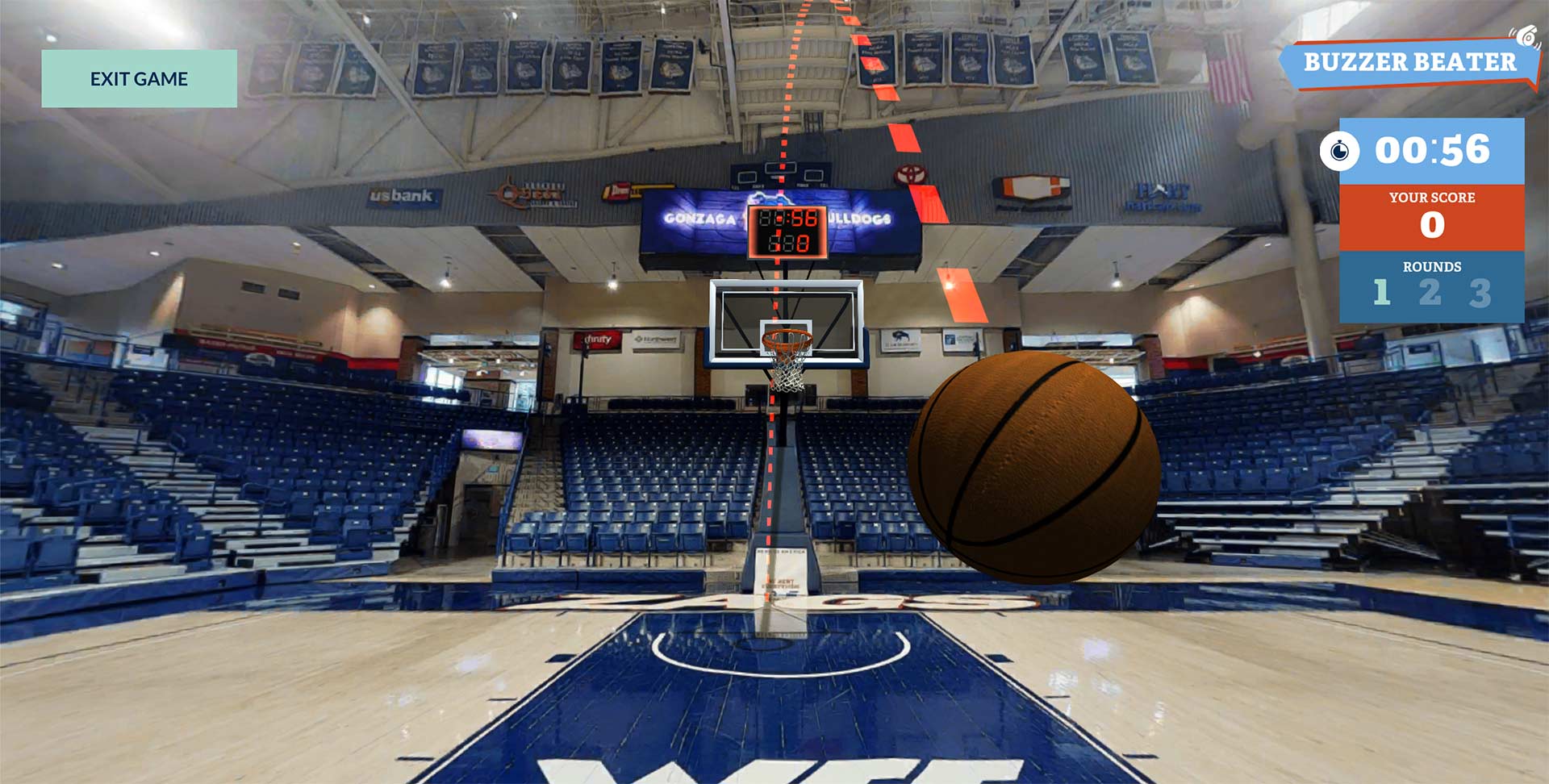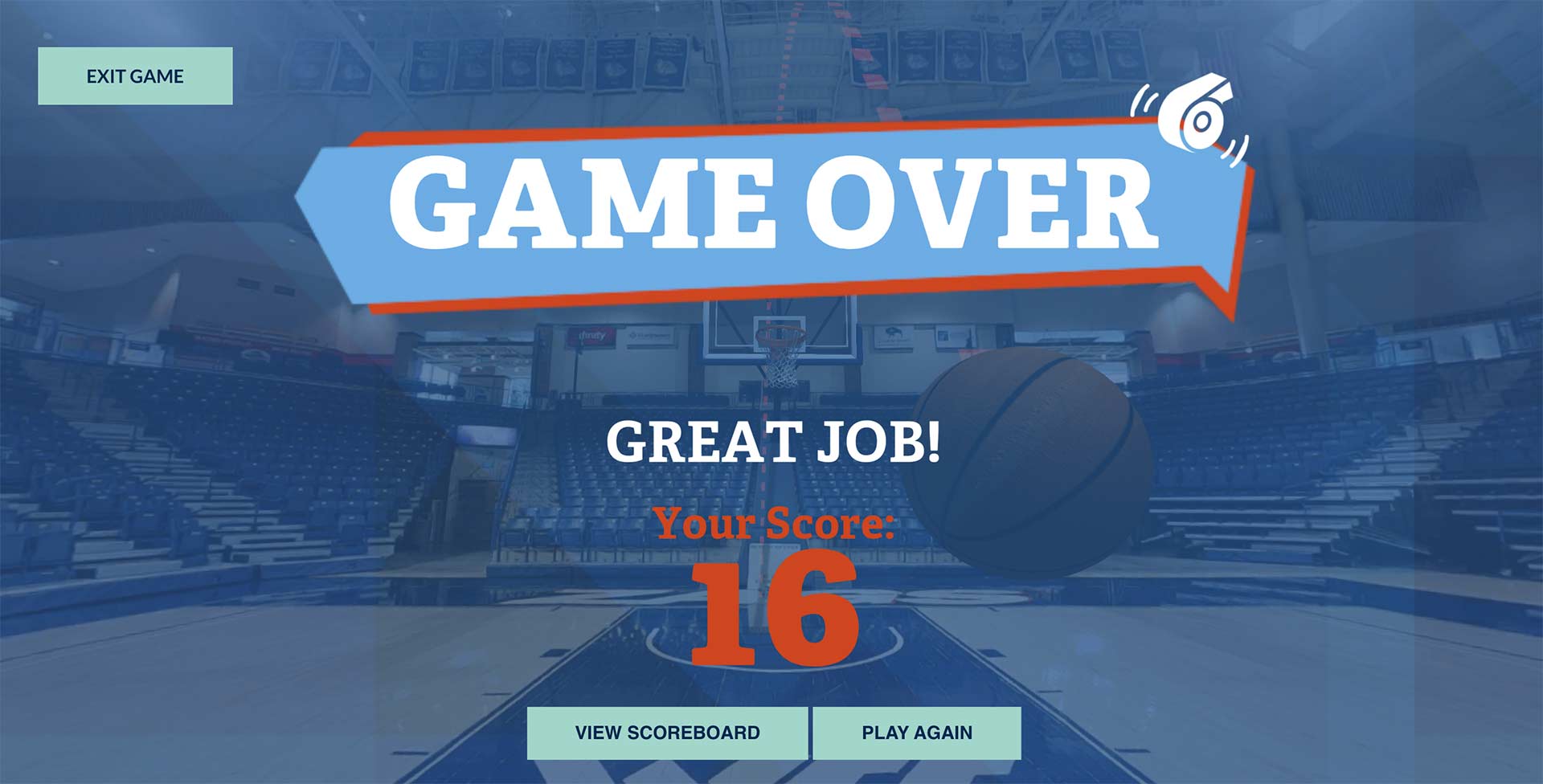 :: Virtual photo booth & gallery ::
A virtual photo booth let participants capture pics of themselves, and unique frames let them add Gonzaga-themed flair (including player Drew Timme's infamous handlebar mustache). Following moderation, photos appeared in a gallery; even better, participants received their unique photos via email, with an invitation to post to social media using the #zagmadness hashtag.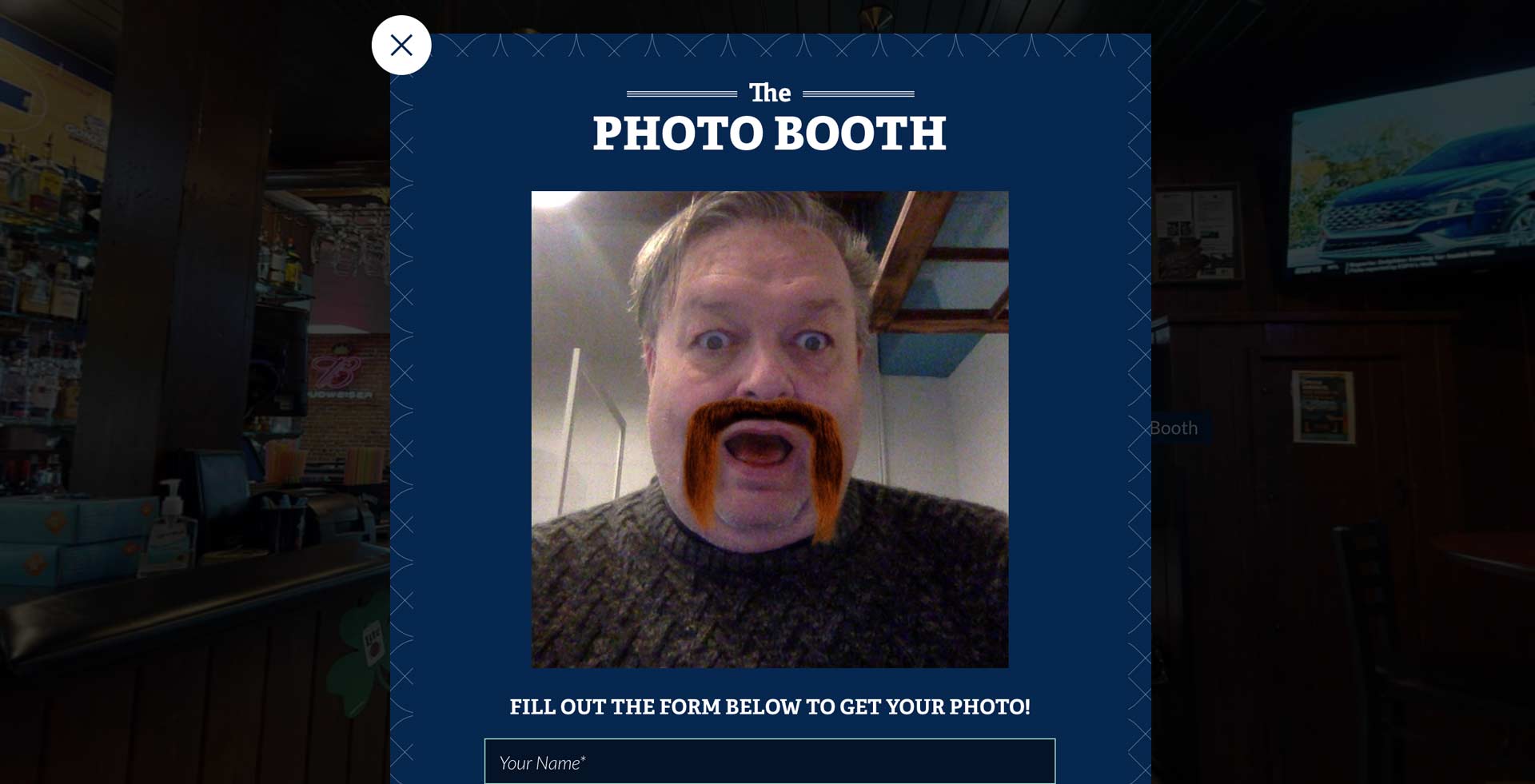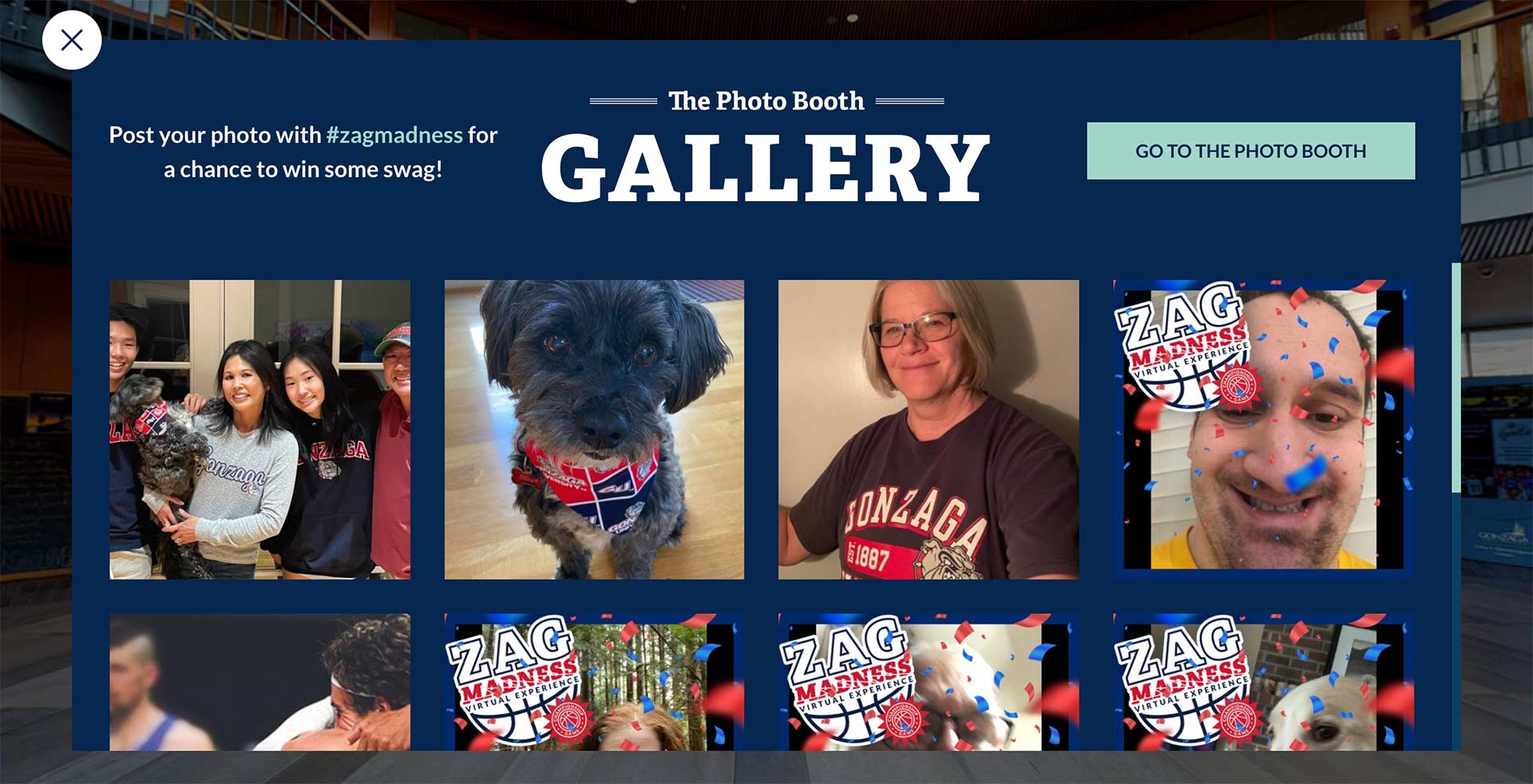 :: beverages for bulldogs ::
A menu of virtual drinks in Jack & Dan's; users order drinks, and all proceeds benefit Gonzaga scholarships.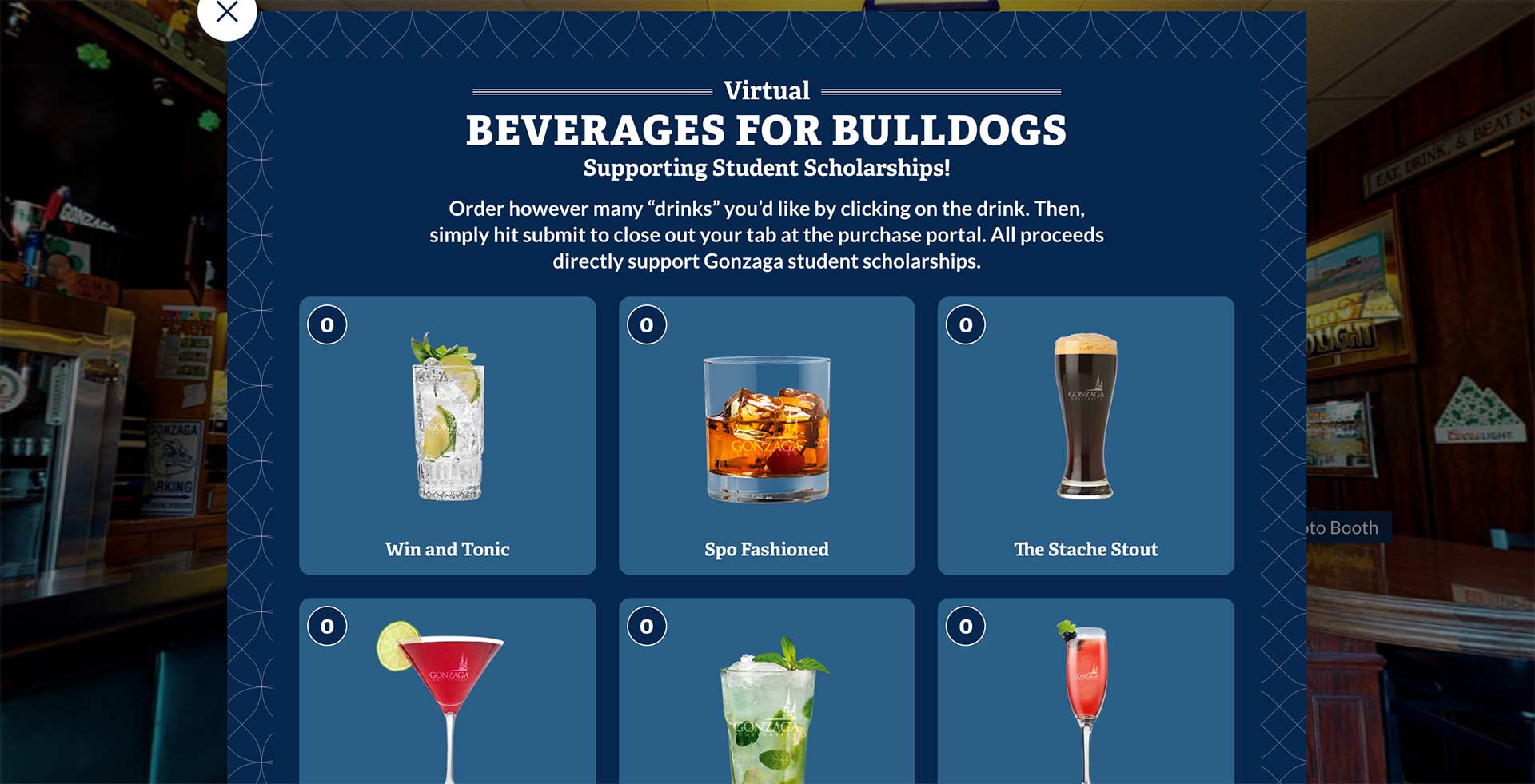 :: main program ::
The large screen in the McCarthey Center offered a mix of livestreamed content, as well as a selection of other Gonzaga videos. Because much of the main program featured live content, a notification center let users know when to join the live programming.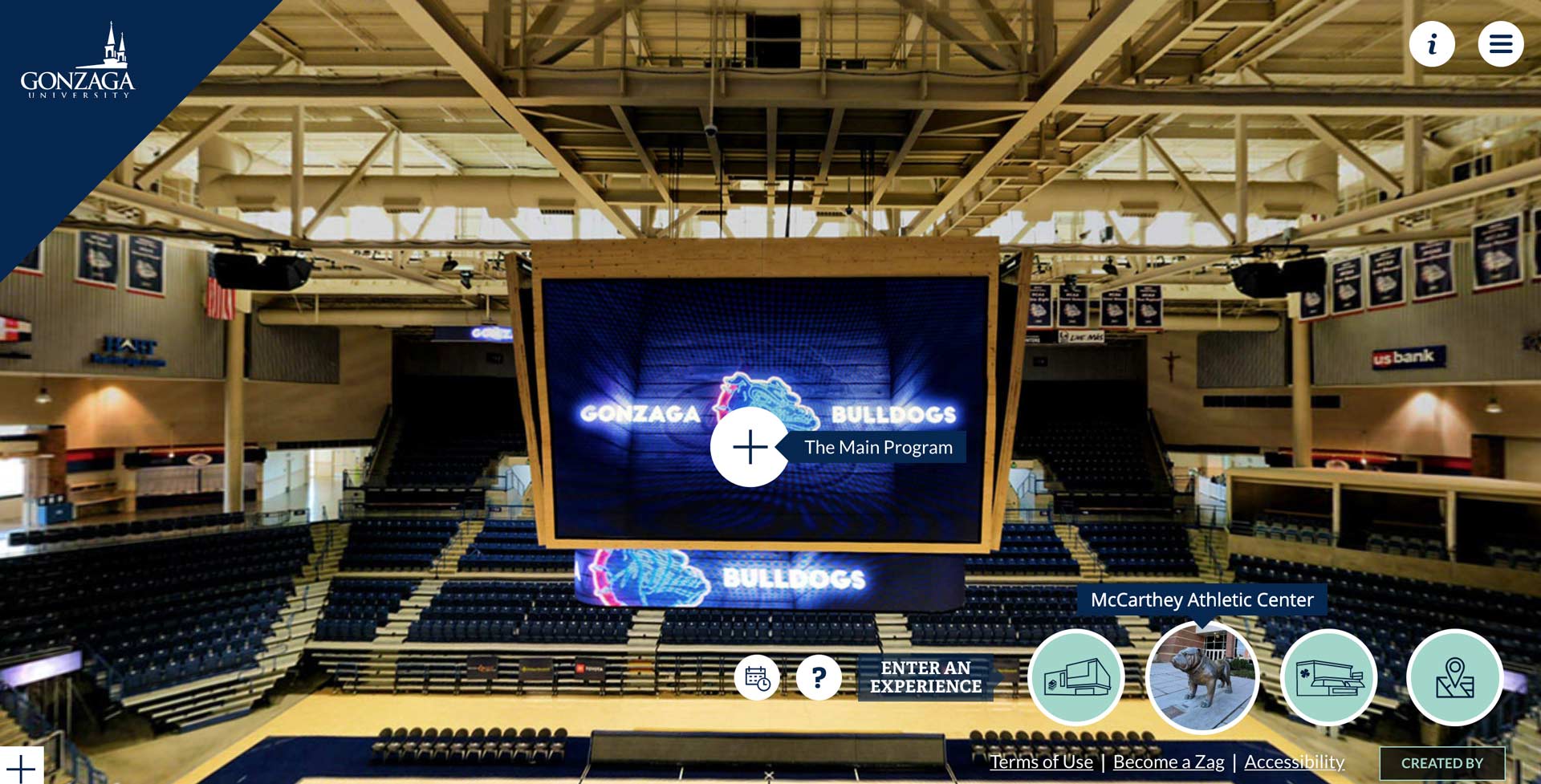 :: dj dance party ::
A live DJ provided music throughout the experience; participants were easily able to enjoy music (or disable it) wherever they were within the environment.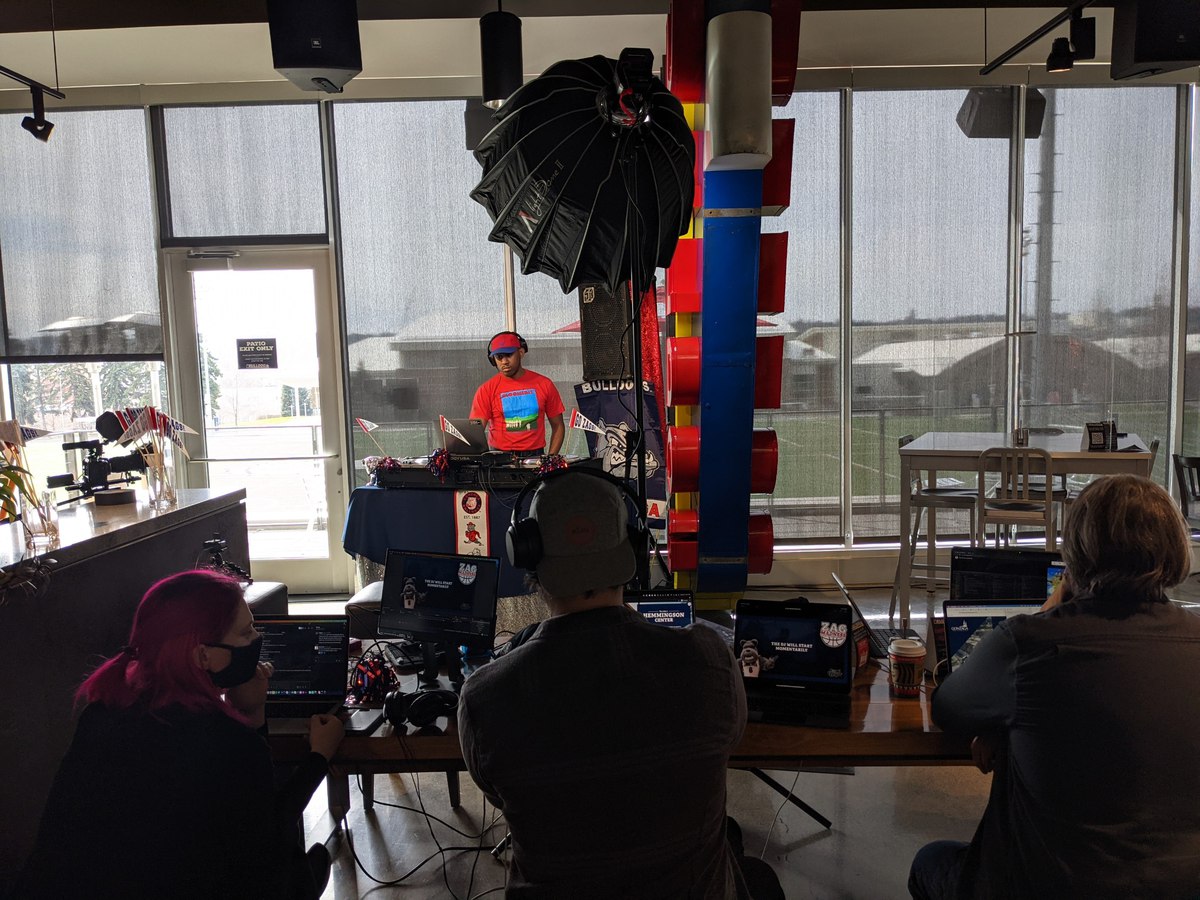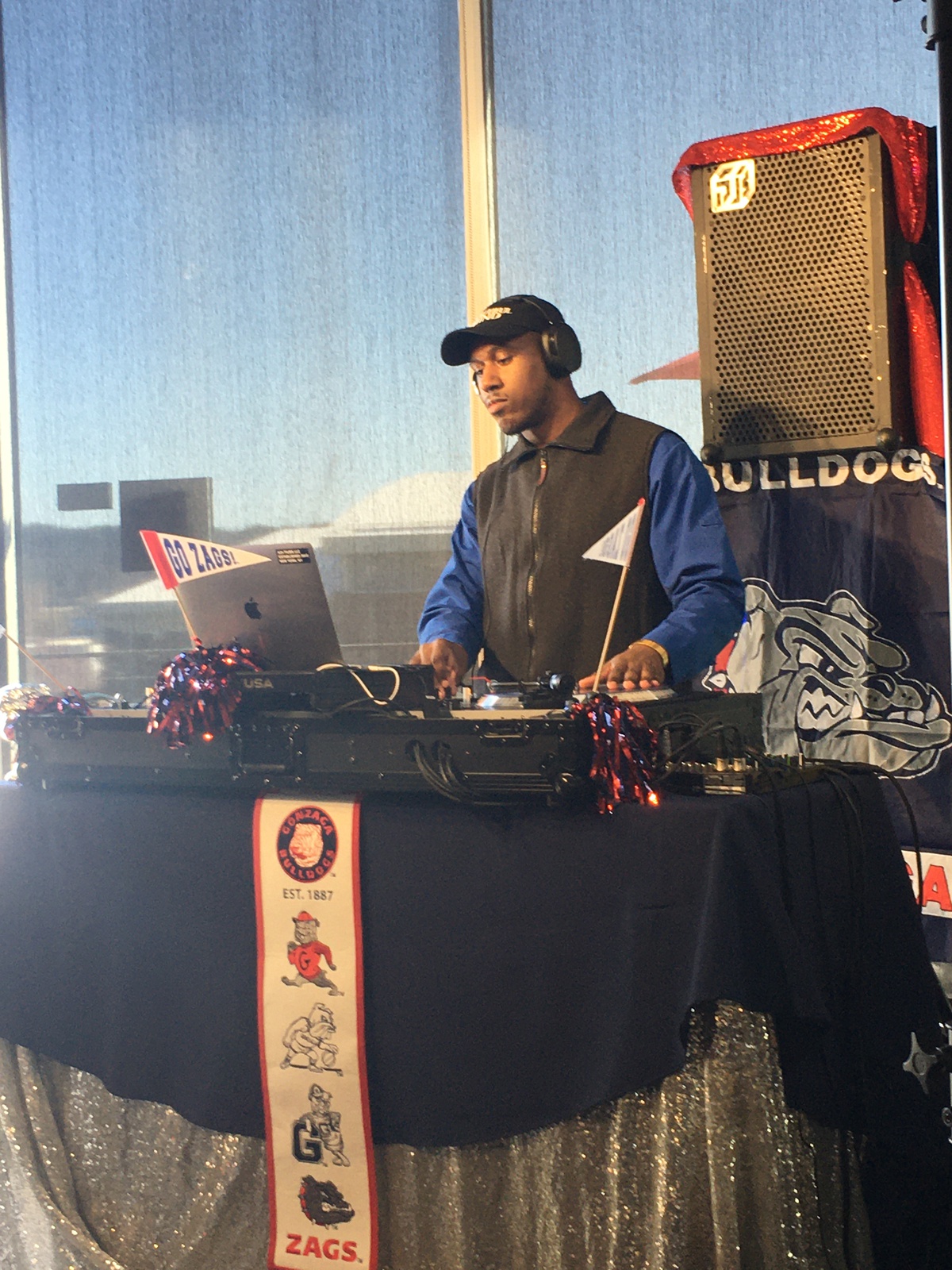 :: fan rooms ::
Integrating with Gonzaga's investment in Zoom technology, live "Fan Rooms" let users interact with former players and other users. Fan Rooms were also live, so the notification center let users know when to join rooms for interaction.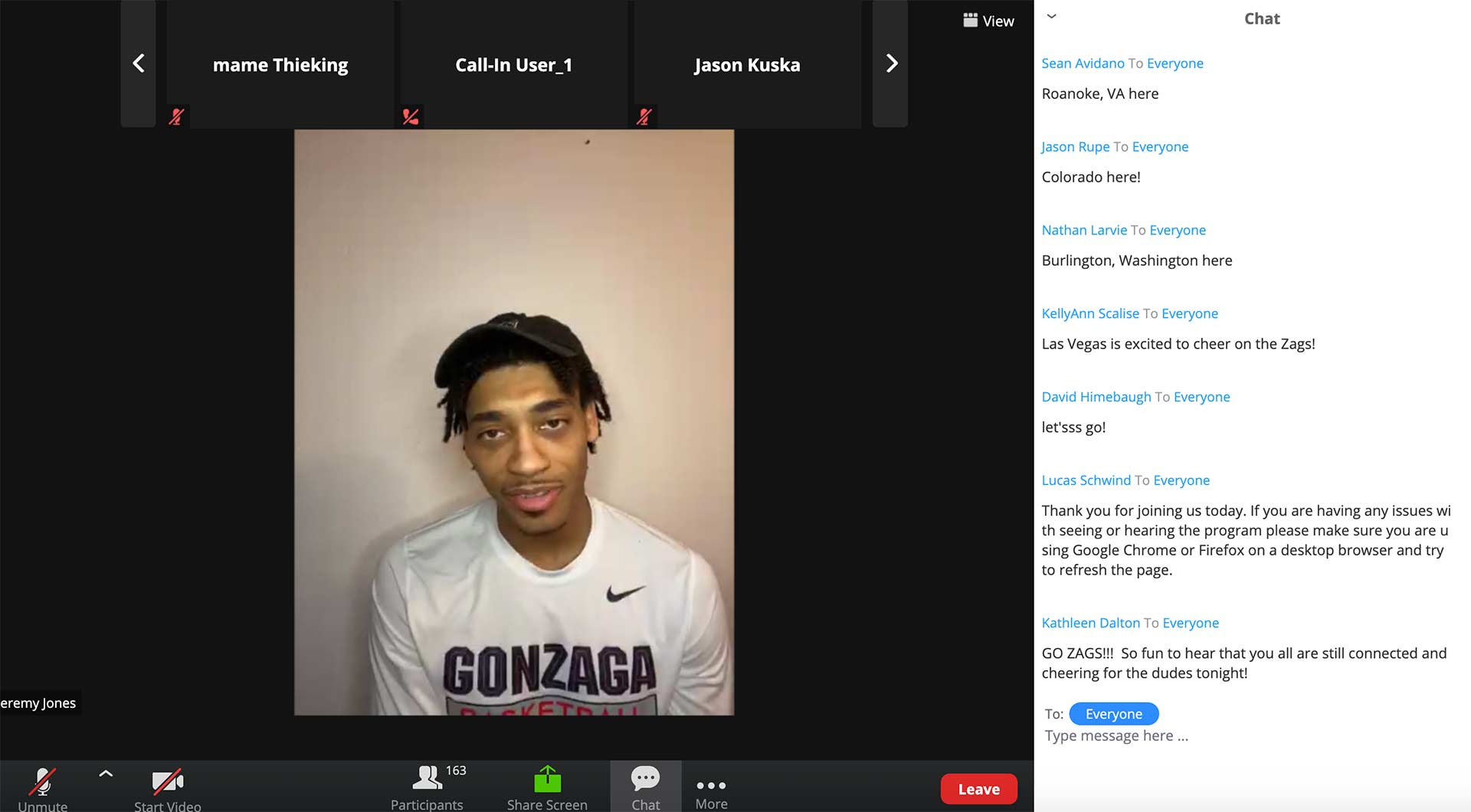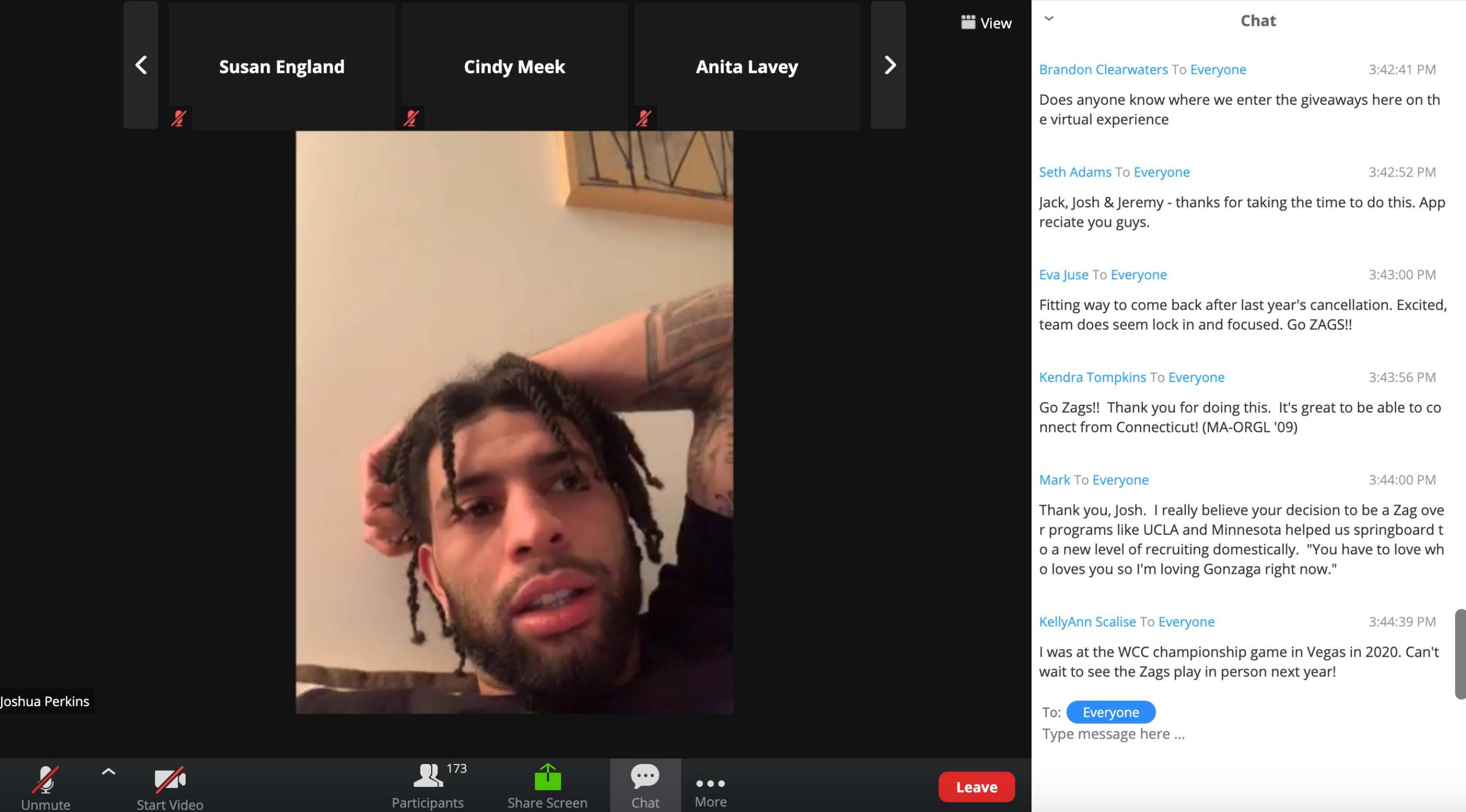 imagine your own possibilities
Immersive, effective, and—dare we say—addictive. The Zag Madness Virtual Experience enabled Gonzaga Univeristy to celebrate the accomplishments of its men's basketball program while reaching out to alumni, family, friends and prospective students.
Imagine what a similar platform might do for your events and online engagement. Better yet, get in touch with us, and let's imagine what's possible together.